Dobot M1 robot ARM
Extremely easy to use manipulator with a payload up to 1.5 kg. the Device can be monitored, in particular, with USB or wirelessly via Bluetooth, for example, with a smartphone and applications. Through the simple mechanism of replacing tips, the robot can perform many functions such as laser cutting or 3D printing.

The contents of the set
Included in addition to the manipulator are also modules and additional tools. Their list is in the table below.
L. p.
Name

The contents

1
The shoulder of the robot
2
Capture
3
Air pump

Controller air pump
Tube
Wire
Connector 4-pin

4
Suction Cup
5
Power supply

AC cable
DC cable
Power supply

6
Connectors and wires

Safety switch
Connector 4-pin
Cable DB9 serial
Cable Internet
Management
Shoulder Dobot can be controlled in various ways. The manufacturer has equipped the device, in particular in:
Bluetooth - for wireless communication, such as a phone or other BT module.
The wi-fi module allows you to communicate via the Internet.
The RS-232 port for communication with PC for programming movements, for example, in the form of blocks or in C, C++, C#, Python, or Java using a specialized API.
Software
Dobot Studio allows you to monitor, configure and change the settings of the manipulator without creating any code.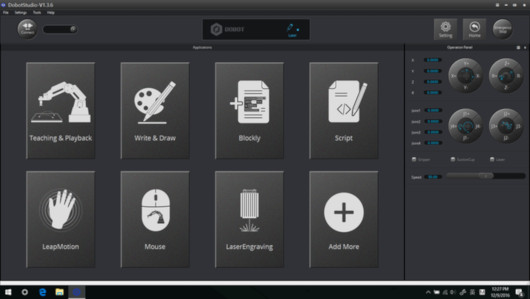 Indexable tools
Through the use of a simple mechanism instruments installed on the end of the robot it is very easy to change. The shoulder can be a 3D printer to make some time to draw pictures with a marker or cut openings using a laser.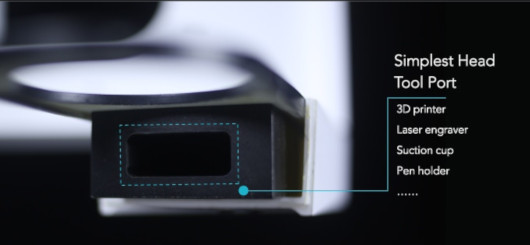 The function of Handhold teaching
You can register the moves and then repeat them over the shoulder Dobot. This function allows to control in a very simple and quick way.
Technical information
Specification
Capacity
1500 g
Maximum reach
400 mm
Positioning accuracy
+/- 0.02 mm
Link

RS-232

Wi-fi

Bluetooth

Power supply (included)

from 100 V to 240 V

V 50 / 60 Hz

Outputs / inputs

12 IN THE POST. DC / 7 A

Power consumption

8 inputs, 24 V

8x to get 24 V

Maximum speed

corner: 200 °/S

the linear axis. X/Y: 2000 mm/sec

the linear axis. With: 1000 mm/sec

Height

670 mm

Dimensions

130 × 115 × 12 mm
The movement axis
Axis
Range
Shoulder 1
from -90 ° to 90 °
Shoulder 2
from -135 ° to 135 °
Axis
250 mm
Twist grip
from +180 ° to -180 °